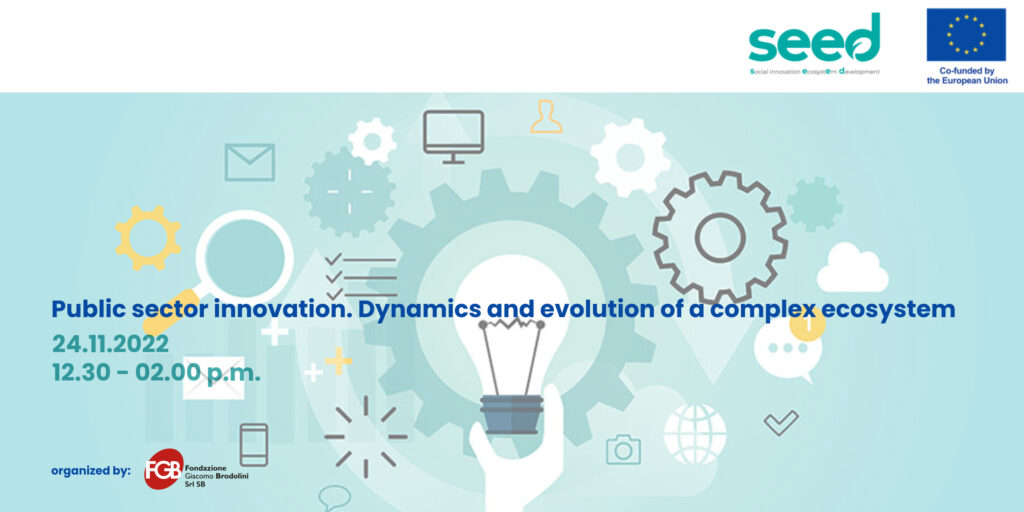 24
Nov
Public Sector Innovation. Dynamics and evolution of a complex ecosystem
24 Novembre 2022
12:30 / 14:00
Public Sector Innovation. Dynamics and evolution of a complex ecosystem
Organizzato da
By Seed Project SEED Capacity Building
In the last decades, we've often seen the adoption of private sector innovations in the public sector through collaborations and the establishment of public private partnership to implement new products and services and solve complex problems.
Many of these have succeded, others not so well for different reasons.
In the meantime, outside the bureaucratic radars, in our cities and neighbourhoods, a rich vein of experimentation with more collaborative forms of public engagement, aimed at allowing people outside and inside of government to work together in designing policy.
These collaborative governance models have been effective in shifting power and building trust by enabling government officials and advocates to see each other as collaborators with unique capacities and perspectives that support the other's interests and positions (SSIR).
How these grassroots innovations combine with formal PPP?
Which organising models appear to be more promising in terms of inclusion and accountability?
How shared administration models are evolving to answer to new, compex socio-economic challenges?
How can we evaluate effectively the impact of these new, hybrid models of public and private partnership?